Choosing the right countertop material is crucial for families with children. It should not only be visually appealing but also durable, easy to clean, and resistant to stains and scratches. In this blog post, we will explore the top countertop materials that meet these criteria, ensuring a functional and safe space for your family. Spoiler alert: stone is more durable and functional than other options.
Quartz Countertops ($$-$$$$): Quartz countertops have gained immense popularity among families with children due to their exceptional durability and low maintenance requirements. Composed of natural quartz crystals combined with resins, quartz countertops are non-porous, making them resistant to stains, bacteria, and liquid absorption. This quality eliminates the need for sealing or resealing, making them perfect for busy households. Additionally, quartz countertops are highly resistant to scratches, ensuring longevity even in the face of rough play and accidental knife slips. With a wide variety of colors and patterns available, you can find a quartz countertop that matches your desired aesthetic while providing a family-friendly environment.
Granite Countertops ($$-$$$): Another popular choice for families with children is granite countertops. Known for their strength and durability, granite countertops can withstand heavy use and are resistant to heat, stains, and scratches. With proper sealing, granite can also resist bacterial growth and maintain its appearance for years to come. Granite countertops offer a natural and timeless appeal, adding value to your kitchen while providing a safe surface for your children. Although granite requires periodic resealing, it is a small price to pay for its durability and aesthetic appeal.
Solid Surface Countertops ($-$$): Made from a blend of natural minerals and acrylic, these countertops are non-porous, making them resistant to stains and easy to clean. They also offer a seamless appearance, eliminating any gaps or crevices where bacteria can accumulate. While solid surface countertops have their advantages, it's important to note a few potential drawbacks. They can be susceptible to scratches and may require more frequent maintenance and repairs compared to other countertop materials. Additionally, exposure to high heat can cause damage to the surface, so using heat-resistant pads or trivets is essential.
Laminate Countertops ($): Laminate countertops are an affordable and versatile choice for families with children. Made from layers of resin-infused paper, laminate countertops are easy to clean, requiring only a mild household cleaner and a soft cloth. However, it's important to consider some limitations of laminate countertops. Laminate can be more prone to chipping and impact damage compared to other materials. Excessive moisture exposure can cause the laminate to swell and delaminate, leading to potential damage. Additionally, laminate countertops often have visible seams, which can trap dirt and grime if not properly sealed. While cheaper, laminate is not as durable as some slightly pricier options.
When selecting the best countertop material for your family, consider durability, ease of maintenance, resistance to stains and scratches, and the overall aesthetic appeal. Quartz and granite countertops are both excellent timeless choices that cater to the needs of families with children. Assess your family's lifestyle and preferences to find the perfect countertop material that will provide a functional, safe, and beautiful kitchen space for years to come.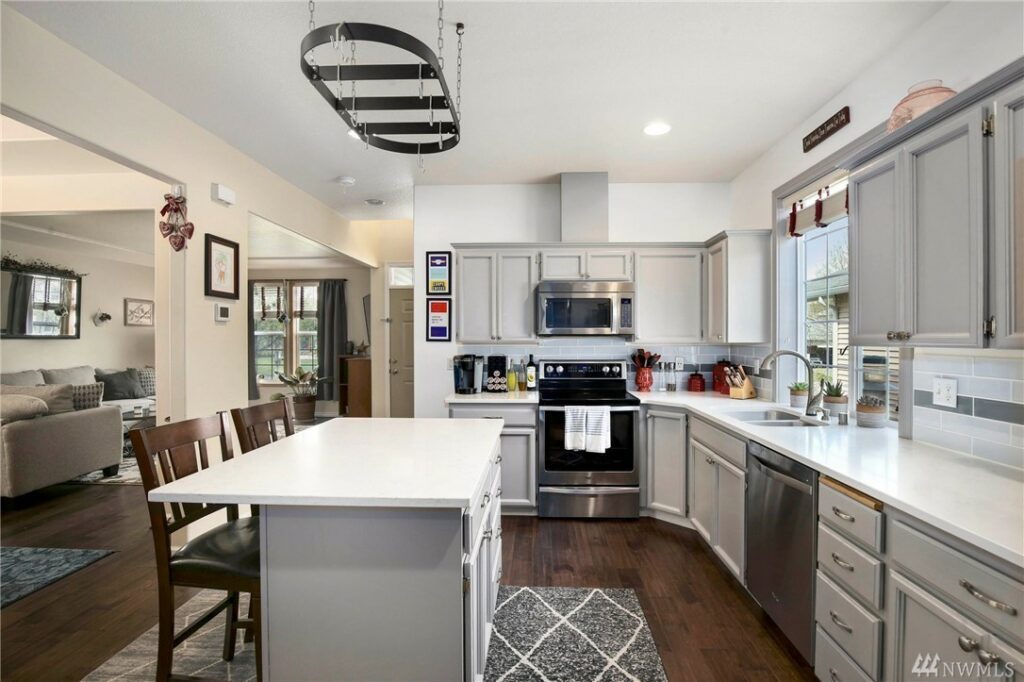 Remodels can be pricey, but spending a little more on durable materials can save you years of heartache from damage caused by tiny paws or fingers. Looking for more family kitchen design ideas? Check out these relevant blog posts:
https://www.houzz.com/magazine/10-design-tips-for-planning-a-family-kitchen-stsetivw-vs~139104610
https://www.homesandgardens.com/ideas/family-kitchen-ideas
Settling down in the South Sound area? Your countertop experts are here to help. Be sure to reach out to the Tops sales and design team when you decide it's time to remodel the nest!